INTRODUCING -THE AMAZING
Universal Remote Control that comes with it's own finder, so you'll never again cry...
"WHERE'S THE REMOTE ?"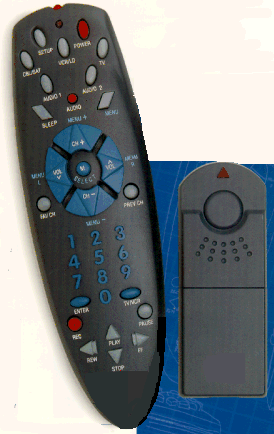 <-Finder Device and 5-1 Universal Remote
FINDER VELCROS TO ANY SURFACE! comes with velcro strips
Remote BEEPS up to 60 Feet Away !
Introducing the amazing ONE FOR ALL Sp5061Remote ! This universal remote works all your home electronics and can't be lost or misplaced because this remote comes with it's own finder ! The Finder velcros to any surface for easy use (velcro strips are included). Using unique RF technology, just push the button on the finder and the remote will beep anywhere. Whether it's wedged in the cushion of the couch, buried under the blanket, or even if your pet hides it in another room, you'll never again cry...
"WHERE'S THE REMOTE ?"
This universal remote that works any brand TV, VCR, cable box, or stereo.....and best of all it works virtually all the functions including the menu button.
| | |
| --- | --- |
| | Volume Fast Forward |
| | Channels Rewind |
| | Power Stop |
| | Mute Record |
| | Previous Channel Pause |
| | Favorite Channel TV/VCR |
| | Select Sleep Timer |
| | Play Menu |
Why have 2, 3 or even up to five remotes when you can replace them with one easy to use and impossible to lose remote !

Get the One For All Remote and the Finder for the incredible low price of only...
$19.95 on this exclusive web offer !
one for all remote model# SP5061
(Florida residents please add 7% Sales Tax)
out of the USA or Canada call 1-813-926-2022
RETURN POLICY: 100 percent, no questions asked, 30 day money back guarantee on all remotes!